About Hayes Music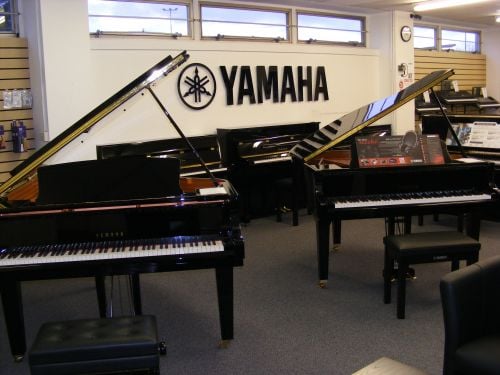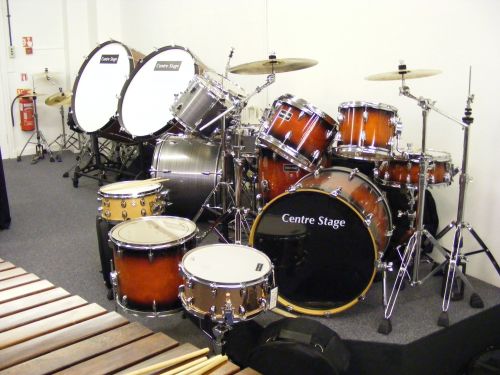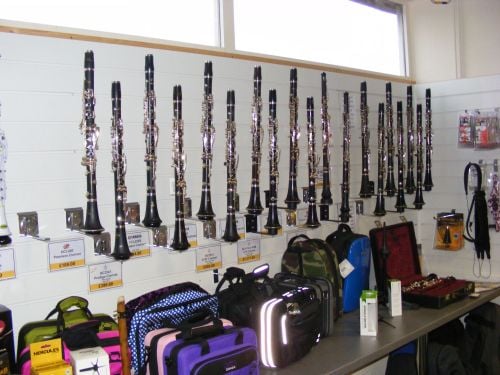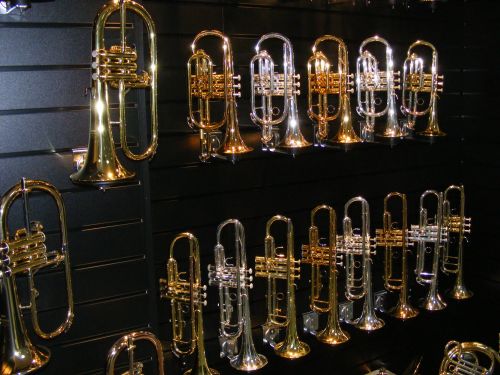 Established in 2004, we supply and repair the widest range of Brass, Woodwind, Percussion, Pianos and Keyboard instruments and accessories in Hampshire. Our instruments include high quality but well priced beginner and intermediate models as well as a complete range of professional instruments from all the leading brands.
You are welcome to visit our New Showroom, The Music Barn, off Junction 2 of the M27 near Romsey. The Showroom is complete with Practice Room and specialises in Brass, Woodwind, Yamaha Pianos and Keyboards and Percussion. Or visit our Music Store in the center of Romsey which has some of everything including a large range of Guitars, Ukuleles and other Stringed Instruments.
We carry a large stock of New and Used instruments include models from most of the leading manufacturers.
Our extensive Music Library includes Tuition Books, ABRSM and Trinity Exam Publications and Brass, Windband and Orchestral Sets.
As part of a complete service, we stock a comprehensive range of Gig Bags, Instrument Cases, Mutes, Mouthpieces, Reeds, Stands, Lubricants, Cleaning Materials. and other accessories
Our SERVICE CENTRE located at the Romsey Showroom provides a full backup service for all Brass and Woodwind instruments including regular servicing, dent removal to major repairs. Instruments can be dropped off at our Romsey Shop if it is more convenient.
How to find us:
Our main Showroom is conveniently located near Southampton and Romsey, just 2 minutes from Junction 2 of the M27 and have our own free on-site car park.
From Junction 2 of the M27, proceed northwards on the A36 towards Salisbury. After half a mile at the Roundabout take the 4th exit towards Romsey A3090. Proceed up the hill and past the first junction on the left. Continue on the dual carriageway for a half mile, when the hedge in the central reservation finishes look for a cutting in the road, turn right crossing the dual carriageway and you will find the Music Barn. If you miss this turning proceed another mile and after descending a steep hill make a U turn at the junction at the bottom of the hill. Proceed up the other side of the dual carriageway, our entrance is a small slip road 300 yards on the left after reaching the top of the hill.
The Music Barn - Cutters Barn, Pauncefoot Hill, Romsey, SO51 6AA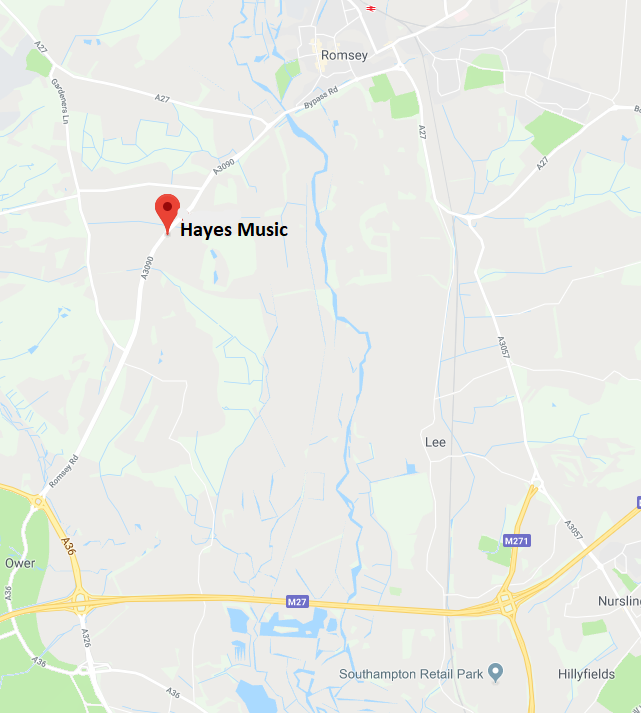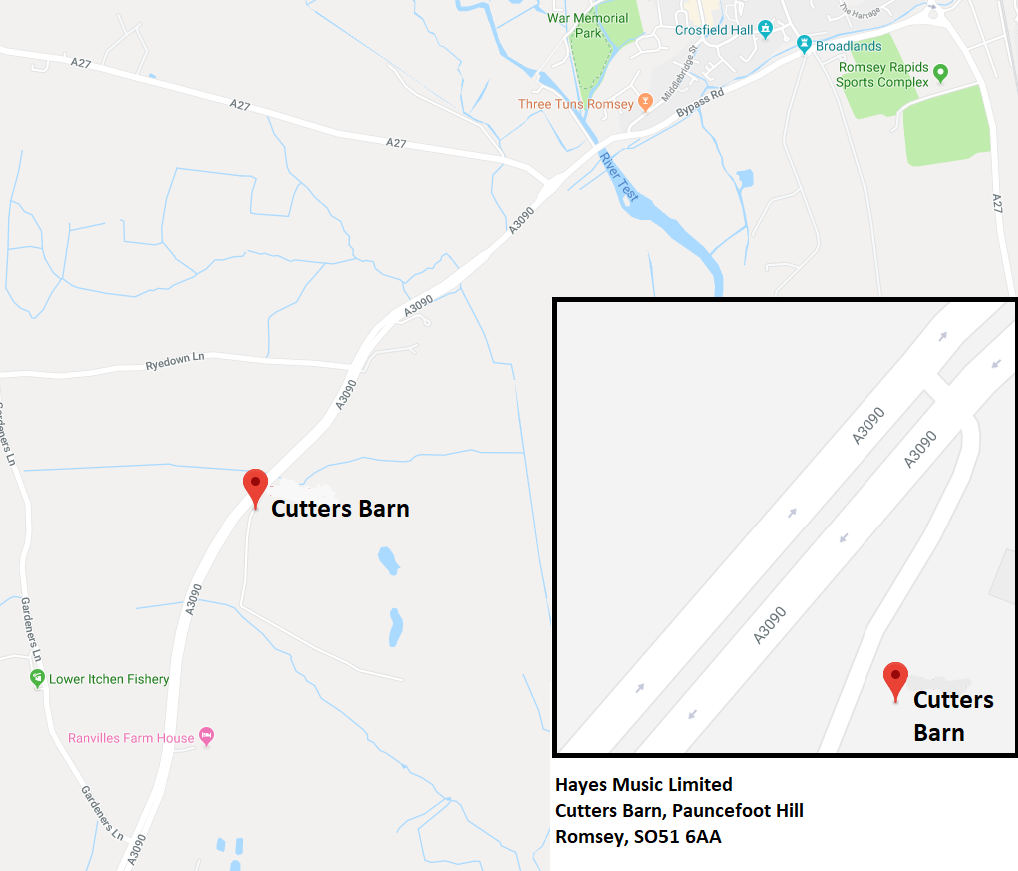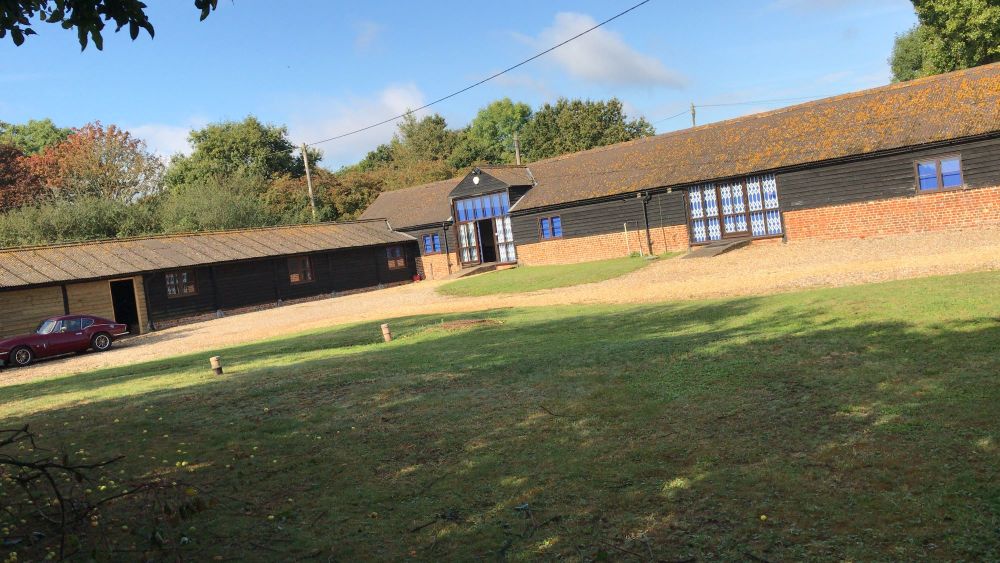 The ROMSEY Store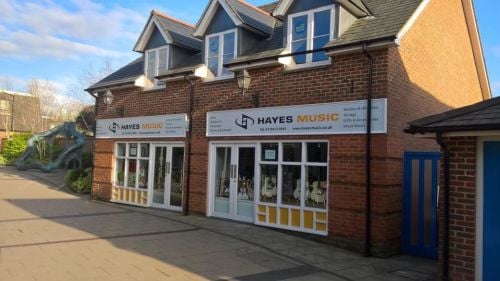 Our Romsey Shop is located in the Centre of Romsey adjacent to Waitrose.